Prof. Cai Zongwei
Department of Chemistry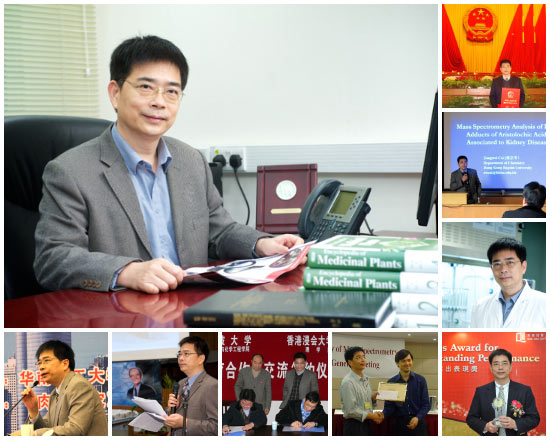 Professor Cai Zongwei is a distinguished chemist in the field of Analytical Chemistry and an internationally acclaimed expert in environmental trace analysis. He applies chromatography coupled with mass spectrometry for trace analysis in complex systems such as the environment, traditional Chinese medicines, food and biological matrices. His research group has recently developed and applied mass spectrometry-based metabolomics for investigating biomarkers related to various diseases and toxic components posing major threat to human health. This approach promises great utility in future.

Professor Cai has an outstanding research record with over 2,000 citations and more than 230 scientific papers published since he joined the University in 2001. He is also adept at securing external research grants, having obtained funding from the Research Grants Council, Environmental Conservation Fund, the Health and Health Services Research Fund, the National Natural Science Foundation of China, as well as project funding from the Environmental Protection Department and Drainage Service Department, in the capacity of Principal Investigator.

As one of the leading experts in dioxins research in the international arena, Professor Cai founded the Dioxin Analysis Laboratory in 2003 to keep track of the level of dioxin pollution in the environment and food in the territory. This laboratory is the sole academic facility of dioxins accredited by the Hong Kong Laboratory Accreditation Scheme and is recognized by the United Nations Environment Programme (UNEP) as a first-class laboratory.

Being a top analytical chemist, Professor Cai is often invited to serve and participate in international conferences and work groups. He was invited as the principal author to lead a consultant group for writing UNEP's Asia-Pacific regional report on persistent organic pollutants (POPs) under the Stockholm Convention. He was later invited to join the UNEP expert group to establish the "Guidance for Global Monitoring Programme".

His academic prominence has also gained him membership in numerous professional societies, such as the American Chemical Society and the Hong Kong Society of Mass Spectrometry. In addition, he is invited to serve as editorial board member for several peer-reviewed scientific journals, including the prestigious Rapid Communication in Mass Spectrometry, Talanta and Journal of Pharmaceutical and Biomedical Analysis. Starting from this year, he has been hired to serve as the Editor for Rapid Communication in Mass Spectrometry. He is the first, and also the only Editor in Asian in the history of the Journal.

Professor Cai has received numerous awards in his academic career. He won the 2011 Second-Class State Natural Science Award for a collaborative research project entitled "Analytical Methodology, Formation and Transformation Mechanism on Persistent Toxic Substances". This award was in effect China's highest as the first-class award had not been given for the previous seven years.

In recognition of Professor Cai's influential and important contribution to the field of analytical chemistry, the Selection Committee recommends him for the President's Award for Outstanding Performance in Scholarly Work.