Career Prospect
Our graduates receive broad-based training that equips themselves with experiences in analyzing scientific problems using inter-disciplinary approach. Therefore they are well-prepared for employment in various sectors including:
Business / Commerce
Government
Education
Community / Social services
Banking / Finance
Job natures of graduates show a wide variety:
Scientific Research and Technology Specialist
Administration / Management
Marketing / Sales
Teaching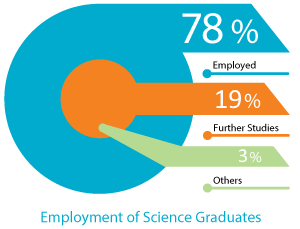 Our Science graduates' employment rate is 99% in the past 3 years, inclusive of 20% further studies. Most of our graduates landed jobs in sectors such as Commerce / Industry, Government and Education, etc. The average salary of 2017 graduates is around HKD15,200.
Some graduates opt for further studies after completing their undergraduate studies which often enables them to secure jobs of better pay and brighter prospect, including taking up faculty positions in universities.


>> Alumni Sharing <<