Dr. Leung Cham Fai, Ken
Department of Chemistry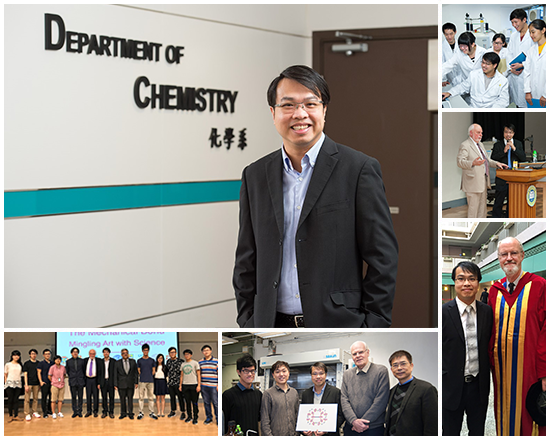 The highly effective impact that Dr. Ken Leung has had on the research students under his supervision can best be judged by the results they have achieved in academia, competitions and in their careers. These successes amply demonstrate the hard work that Dr. Leung devotes to stimulating his students' research curiosity and creativity as well as motivating them through his innovative methods and patient guidance.

So far Dr. Leung has supervised 22 students and researchers with most of them having generated materials for inclusion in academic publications. Of the ten research personnel currently under Dr. Leung's supervision, one PhD student has won four awards. Five alumni of Dr. Leung's research group are working in the academic field in Mainland China and Macau as well as Hong Kong. Seven of his alumni are working in research or science-related areas.

Dr. Leung is warmly appreciated by his students for the tremendous efforts he devotes to preparing for classroom supervision. He encourages his students to think critically by emphasising concepts, mechanisms and problem solving rather than by merely memorising information. He constantly stresses the importance of what is practical through the use of models, videos and real-life examples. Dr. Leung is adept at adjusting his supervisory work to suit the different needs of his students who come from diversified backgrounds. The students also benefit greatly from Dr. Leung's ability to attract internationally renowned experts, including Nobel Laureates, to speak and engage with them at the University.

In his mentoring of postgraduates and also undergraduates in their research project, he places a high priority on collaborative projects with other experts as he strongly believes that his peers are his best teachers. At the same time he stresses the importance for postgraduate students to have their own individual project from which they can develop their own set of skills. He encourages his students not only to develop a sharp focus on their research project and related literature but also to read literature and attend seminars outside their research areas. Most importantly through his critical analysis and timely feedback he helps students to build up the scientific reasoning necessary to carry out projects of their own design and interpret the data from experimental results.

Commented by one student: "Dr. Leung always discusses the updated progress of the research with us every week. Once he thinks that I am going in the wrong direction in the research topic, he will guide me back to the right direction and is always enthusiastic about any findings. Also he will not put too much pressure on us, he just lets us doing our best in our research work."

In light of the energy, dedication and creativity that Dr. Leung devotes to his research supervision, he is eminently qualified to receive the President's Award for Outstanding Performance in Research Supervision.