Prof. Chan Wing Hong
Department of Chemistry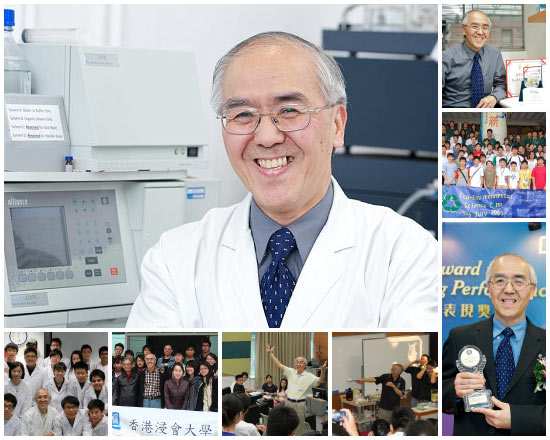 Professor Chan Wing Hong has served the University with loyalty and distinction since 1981, spending his entire working life at HKBU. The Selection Committee is highly impressed by his tireless contributions to the Department of Chemistry, the Faculty of Science, the University and to the community at large. Professor Chan has demonstrated a clear vision of his service contributions. In his view, service is not just a job responsibility, it is also a privilege, enabling him to engage in teamwork with colleagues for the betterment of the students and the University. There is no doubt that Professor Chan has successfully fulfilled this vision.

Professor Chan has a long and impressive record of academic as well as community service. At the departmental level, Professor Chan served as Head of the Department of Chemistry for nine years, contributing much to the advancement of the teaching programmes and research strength of the Department. With dedication, persistence, and outstanding capabilities, Professor Chan successfully led the Department through a period of hardship brought about by severe budget cuts of the University Grants Committee. Professor Chan has also demonstrated his immense and undiminished enthusiasm for enriching students' learning experience. He initiated the "Student Assistant Scheme" to provide service learning opportunities for Chemistry undergraduates. Under the Scheme, selected students are invited to participate as student assistants in many outreaching activities of the Department. To broaden the horizon of undergraduate students, since 2006 he has organized and accompanied final year students on annual two-day visits to industrial plants in the Mainland. Over the years, Professor Chan has also participated proactively and extensively in numerous committees at all levels.

Professor Chan plays an active role in enhancing the profile and image of the University through organizing various activities. Under his leadership, the Department hosted a highly visible international conference on Analytical Sciences in 2004, an impressive showcase for the Department to display its qualities and achievements to prominent analytical scientists. In 2011, Professor Chan joined hands with other local tertiary institutions to organize a series of activities engaging the community in celebrating the "International Year of Chemistry". These included two large-scale events held on the University campus, "Chemistry Fun Fun Fun 2011" and "I Like Chemistry 2011", which had attracted over 1,200 visitors.

Professor Chan is known to be the foremost figure both locally and internationally to adopt "microscale experiments" to promote practical laboratory training in the secondary schools and tertiary institutions. Under the auspices of the FACS (Federation of Asian Chemical Societies), he was appointed as the Project Director for two terms (2002-2006) for promoting microscale chemistry in Asian countries. Locally, he has conducted many seminars and workshops for secondary school teachers as well as outreach programmes for secondary school students, including summer science camps in 2007 and 2008. Recently, in response to calls from the Education Bureau of the HKSAR, Professor Chan served as Course Director in organizing a total of 16 half-day workshops on the "Professional Development Programme on Implementing Microscale Chemistry Experiments". He has also collaborated with the Hong Kong Academy of Gifted Education in providing science programmes for gifted secondary students.

The Selection Committee highly commends Professor Chan for his outstanding performance in service. His selfless contributions to the University and the community have earned him the utmost respect from all who have worked with him. His commitment and readiness also qualify him as an excellent role model for his colleagues.