Prof. Wong Woon Chung, Jonathan
Department of Biology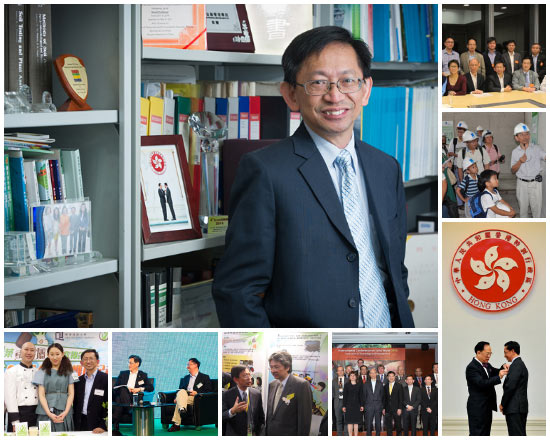 Professor Jonathan Wong is an environmental scientist who believes his mission is to apply his expertise to educating students, government officials and the community at large about the need to establish a sustainable and green Hong Kong.

To fulfil this mission, Professor Wong initiated the establishment of the Task Force for Sustainable Low Carbon Campus in the University. Through this Task Force, he developed university-wide low carbon policies and organised a series of consultation activities and education programmes to educate the University community. This was the first time that a local university had developed a low carbon policy for its campus and led to the University winning the Silver Award in the Public Organisations and Utilities Category at the 2011 Hong Kong Awards for Environmental Excellence.

Professor Wong's efforts to create a greener environment extend to the wider community. Through the establishment of the HKBU Sino-Forest Applied Research Centre for Pearl River Delta Environment, he develops community programmes to enhance the public's environmental awareness to climate change and solid waste problems both in Hong Kong and China. For instance, the Centre has helped to establish 20 green roofs in schools in Shatin. Noting that food waste accounts for a major fraction of the waste stream in Hong Kong, Professor Wong designs different food waste composting programmes to help various organisations produce compost from food waste.

As Director of the Hong Kong Organic Resource Centre, Professor Wong founded the first third party organic certification system in Hong Kong. Through the work of this Centre, he advocates an organic lifestyle, helps farmers convert to organic farming, and ensures proper labelling of organic products in the local market. He envisions that such work can help to maintain sustainable agriculture and aquaculture in the city environment of Hong Kong.

In addition, Professor Wong serves on numerous government committees related to the environment and agriculture, including the Advisory Committee on Agriculture and Fisheries, the Advisory Council on the Environment and the Environmental Campaign Committee. Through these committees, he provides his expert opinion and input on the formulation of environmental and agricultural policies. He received a Medal of Honour in 2011 in recognition for his invaluable contribution to the environment of Hong Kong.

Professor Wong's service contributions extend far and wide beyond his normal call of duties at University, Faculty and Department levels. His admirable determination and enthusiasm in building a sustainable environment make him an indisputably well-deserved recipient of the President's Award for Outstanding Performance in Service.