Professor Wong Ka Leung Gary
Department of Chemistry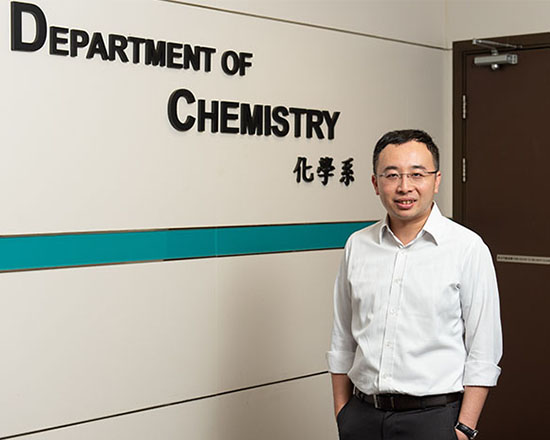 Professor Wong Ka Leung has a remarkable record in research that is truly innovative, creative and cutting edge, ranging from fundamental to frontier topics and from pure to applied themes. He is widely considered as a leader in his field of lanthanide-based complexes and materials used for fundamental photochemistry, spectroscopy and bio-imaging applications.

Professor Wong's research is directed towards developing biological applications that help in the diagnosis of and therapies for cancers, thereby potentially having a high impact on the community. His history of achievement is exceptionally good, with a strong publication record and a rapidly developing citation profile. He has been highly successful in obtaining funding for his research and is frequently invited to speak at international conferences all over the world. He was the plenary speaker at the 9th National Conference and International Forum on Rare Earth Luminescent Materials held in Guangzhou, China, which was the largest lanthanide conference with more than 700 attendees, as well as the keynote speaker at the 9th Asian Bioinorganic Chemistry Conference in Singapore in 2018.

Since receiving the President's Award for Outstanding Young Researcher in 2017, Professor Wong has published a further 30 papers in prestigious international referred journals including Nature Communications, Advanced Science, Light: Science and Applications and Chemical Society Reviews. His research is well recognised with high citation counts and impact factors.

Professor Wong's research has been supported by his success in securing a further HK$5.5 million of external funding in the capacity of Principal Investigator from the General Research Fund, Health and Medical Research Fund and the Croucher Foundation since 2016.

In 2017 Professor Wong founded the New Life Medicine Technology Company Limited (NLMT), a university spin-off company, with the mission to address critical needs and provide clinicians worldwide with advanced solutions to improve the effectiveness and efficiency of existing methods in the medical field. A local listed pharmaceutical company has invested in Professor Wong's technology and acquired the company's shares with a capital of US$8 million. This raises the reputation of NLMT and helps with the development of strategic partnerships with other biotechnology or retail companies and collaborations with the University. After the acquisition, the valuation of the company is considered to be more than US$32 million.

Professor Wong is proactively involved with the professional community, serving on the scientific advisory committees of workshops and conferences, including the International Symposium for Phosphor Materials and Applications. He has also been selected as a member of the international advisory board for ChemPlusChem, an international journal, and appointed as an editor for Journal of Luminescence. Clearly attesting to his global renown in his speciality field, Professor Wong has been invited to serve on an international grant application panel in Poland.

Professor Wong's exceptional research output both in quality and quantity is truly remarkable for a scientist of such young age. Hence the Selection Committee is wholehearted in recommending him for the President's Award for Outstanding Performance in Scholarly Work.