Dr. Choi Koon Kau, Byron
Department of Computer Science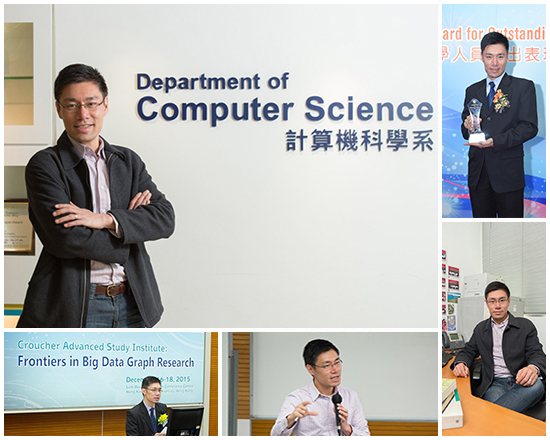 Dr. Byron Choi is a computer scientist with an excellent reputation not just for his impressive research but also for his enviable numbers of citations, grant awards, patent applications and as a supervisor of research students. He is an outstanding researcher in two main areas, namely complex data (graph data) and; security and privacy preserving computing.

Since joining the University in 2008, Dr. Choi has published 17 refereed papers in prestigious international journals including The International Journal of Very Large Data Bases and Institute of Electrical and Electronics Engineers (IEEE) journals. He has also produced 28 papers for globally renowned conferences such as the Association of Computing Machinery International Conference on Management of Data and the IEEE International conference on Data Engineering.

The outstanding quality of Dr. Choi's research is also demonstrated by his high citation count. His research has more than 1,100 citations and his H-index on Google Scholar is 18, a high rating for a second year Associate Professor in his field. Dr. Choi received the departmental Best Research Award in 2014. As a result of his research work, Dr. Choi is frequently invited to organise and serve in international and regional conferences as a co-chair or technical committee member.

In seven years, Dr. Choi has secured three General Research Fund projects as Principal Investigator. He has also acted as external collaborator in three research projects funded by the Ministry of Education of Singapore and one research project for young scientists funded by National Natural Science Foundation of China. Furthermore, he was awarded by the Croucher Foundation as a Director for the Advanced Study Institute on Frontiers of Big Data Graph Research in 2015.

While Dr. Choi is considered as a theoretical computer scientist, he has been able to transfer his research findings into potentially novel applications. In collaboration with his PhD students, he has filed two non-provisional US patents in 2013 and 2015.

As well as focusing on his research, Dr. Choi is a dedicated teacher and is committed to serving his Department. He has devoted exceptional efforts to supervising and providing guidance for his research students. His achievements in teaching were rewarded with the departmental Best Teaching Award in 2015.

The Selection Committee commends Dr. Choi as an outstanding young researcher with high potential to excel in his field in the international arena, and therefore recommends him to receive the President's Award for Outstanding Young Researcher.