Prof. Wong Wai Yeung, Raymond
Department of Chemistry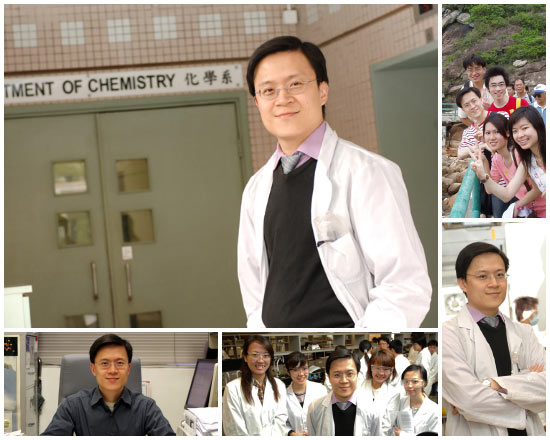 Dr. Raymond Wong stands out as a self-motivated, innovative, conscientious, committed, stimulating and caring teacher. He teaches a wide variety of subjects, from Fundamentals of Chemistry, Inorganic Chemistry, Structural Methods in Chemistry, Advanced Materials to Environmental Chemistry and Pollution Control. He is always willing to take up extra teaching responsibilities when the Department is in need, and for whatever subjects he teaches, he never fails to find ways to stimulate students' interests and has received consistently high evaluation scores despite the diversity of his subjects and the large sizes of his classes. He seems to be forever enthusiastic in finding ways to motivate his students with new teaching methods and tailors his pedagogies to suit their specific needs. To quote some examples, he produced, at his own initiative and with the help of his technical colleagues, an in-house video tape for the Environmental Chemistry course to enhance students' understanding of the relevant skills before going on a field trip to collect environmental samples for chemical analysis. He incorporates different forms of assessment methods such as poster presentation and newspaper article cutting to allow diversity in the overall performance assessment.

Dr. Wong has a very busy schedule but this has not prevented him from caring about his students' academic progress as well as their personal growth. Students like to seek counsel from him not only on academic matters, but also on matters concerning personal and professional development. The Selection Committee is also very impressed with Dr. Wong's supervision of quite a number of postgraduate students throughout the years. His supervision is always close and effective and resulted in attainment of outstanding academic performance by his postgraduate students.

In addition to all these, Dr. Wong still finds time to assist in curriculum development and has made good contributions to curriculum review and development of new courses as well as coordinating the internship programme for students in order for them to get valuable industrial exposure prior to graduation. He also tries hard to improve his teaching by making continual development efforts to enhance his teaching skills. All in all, the Committee commends Dr. Wong's outstanding performance in teaching which is exemplary in many ways. The Committee trusts that in the eyes of his students, Dr. Wong is an all-round teacher who has contributed greatly to their knowledge development, intellectual enhancement and personal growth.