Prof. Xu Jianliang
Department of Computer Science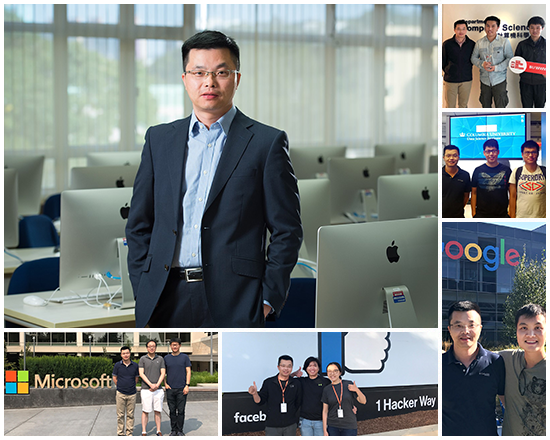 Professor Xu Jianliang has earned a richly deserved reputation as a teacher who creates an inspiring learning environment that has been highly successful in engaging students. Students are appreciative of Professor Xu's profound knowledge of his field of expertise and their self-confidence is boosted by his ability to explain and clarify abstract concepts and theorems. His high teaching evaluation scores are testament to the high regard in which he is held. The impact of his teaching on students' learning outcomes can be seen in the impressive number of awards garnered by students and the publication of their research projects in education-related journals and at top international conferences.

Professor Xu cares deeply about his students' learning experience and their development both inside and outside the classroom. Inside the classroom his key is to make full use of carefully prepared real-life examples with visual aids and provide well-organised course materials which are constantly updated based on students' feedback. Outside the classroom, Professor Xu often assigns students to group projects so they can integrate what they learn through these projects.

Keenly aware that innovation is needed to make teaching effective, and to cater for the needs of students with diversified backgrounds, Professor Xu makes good use of e-learning and m-learning resources and systems that he has developed to strengthen students' learning experience in a more personalised fashion. To facilitate his teaching he has developed online tutors and flash animations for teaching database system concepts and some interaction-aware learning environments.

One of Professor Xu's innovations was a project that he initiated and was entitled "Enjoy Green". This promoted a healthy lifestyle and local landscapes through innovative IT technology. The project enabled students to engage with real-life applications of IT knowledge, thereby enhancing both their system development skills and community service spirit.

Professor Xu is a supervisor of high quality. Other than undergraduates he has also been the principal supervisor of 10 postgraduate students who are now taking positions in leading IT companies and research laboratories including Microsoft, Facebook, Google and Huawei. He has supervised a number of undergraduate students for summer research as well as research-oriented projects. A number of them have won IT project awards at national and regional levels.

As well as his teaching and supervisory work, Professor Xu has contributed to the development of a number of new major courses as well as revising existing courses. He is now overseeing the Department's research postgraduate programme and serving on the management committee for a new interdisciplinary concentration on Data and Media Communication jointly offered by the Department of Computer Science and the Department of Journalism.

In view of Professor Xu's innovative pedagogies, his unceasing support for course development for his Department, and his thorough and effective supervisory work, the Selection Committee finds him a deserving recipient of the President's Award for Outstanding Performance in Teaching.